Subscribe to our newsletter to be kept up to date with our latest products, specials and offers.
Jingle Bells, Jingle Bells, Christmas is almost here!
Slaving away at the office all year? Christmas Party is coming up and it's your chance to kick back and enjoy it right? WRONG, your boss has given you the task of planning the whole thing. AHHH what are you going to do? As if your brain has any room left for party ideas after all the work you do on a daily basis.
You could always go out for lunch or dinner. Followed by far too many drinks for some who'll hang their heads in shame the next day.
But if you're looking for something a little bit different this year, then look no further. We have put together a range of options in and around Perth which may suit your staff down to a tee.
1. THE ODD FELLOW, FREMANTLE
Fancy a shot of whisky? We'd recommend this one to anyone who loves food, music and of course whisky!

Bring your team down to The Odd Fellow for a drink (or 5) to enjoy a night of good food, good company and good music. You can head here straight after work and enjoy the night away, even if it's a Tuesday (because, yes they are open).
Drinks are not limited to whisky, beer, cocktails and much more. There is something for everyone over here. See and enjoy what the local Perth talent has to offer.
Image sourced from Odd Fellow website
2.BOWLING
Why not use this opportunity to show off your bowling skills? This idea is a classic, it's a fun way to spend time with your colleagues outside of work and get your competitive side working. Grab a gross pair of shoes and the right size ball and start bowling away.
We've also heard through the grapevine that you can bring your own alcohol to some centres (this might be the icing on the cake).
Enjoy a few drinks and games then head off to a nearby restaurant for some dinner. If you want to make things a bit more interesting, why not make it a costume party? You'd definitely get some sneaky snaps that could ruin lives (not that we condone this).
Jokes aside, you will have a great night out. Winning the bowling will finally give you the respect you think you deserve (unlikely, but good luck trying).
Zone Bowling Cannington can be a great location around Perth.
3.BOAT PARTY
Kick of summer and the holiday season with a boat party. Live large even if it's only for the day. Make use of Western Australia's fabulous coastline and book out a chartered party boat for your team.

Rottnest Island or a river cruise on the Swan to suggest a couple of things to get your nautical nonsense on.
This is one of the most serene ways to enjoy summer, get the captain to anchor the boat and then jump into the water to cool off for the afternoon.
Image sourced from Pelican Charters
4. DUNK YOUR BOSS
Your boss has been making you work so hard all year long, have you ever thought about dunking them in ice cold water?

Well a dunk tank is sure to put you in the boss's good graces for the next year ?It's a fun way for you and your colleagues to have a blast and cool off. You don't even need the best aim when it comes to the dunk tank (which might prove difficult after a couple of drinks). A simple tap near the shark-eye will flick the switch and see the poor person on the chair dunked into the water. They will get wet!
5. WATER OBSTACLE COURSES
We love the sun as much as you do, but we all know cooling off is a must. We'd recommend a water obstacle course!
This is a unique idea that will have your employees raving on about how their boss threw the best Christmas Party ever! You will be rushing to get on the AQUA RUSH or the famous MONSTER ULTIMATE CHALLENGE.


Race your mates and get wet and wild!
Challenging yourself and your fitness levels running, jumping and climbing through the obstacles. Don't forget it will be harder because you will be wet.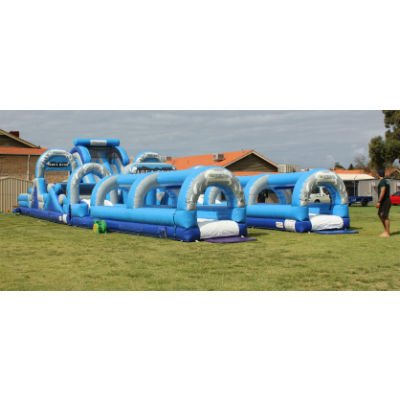 Call Monsterball Amusements & Hire on 9335 5109 to secure this one of a kind unit today.
6. Sumo Wrestling
Want to hit a co-worker or your boss? And not get fired of course. Well sumo wrestling suits will let you take out all that pent up aggression, and it's fun. Not only will it encourage team building (and release a bit of pent up stress) but they'll also encourage physical activity and healthy living. Corporate packages are available for the best deal. So pull out the barbie and fuel your workers with sausage sizzles and refreshments in the glorious December sunshine. Don't forget the sunscreen!

7. Drink the classy way with a cocktail masterclass
Looking for an inner-city activity for a small group? Then a cocktail masterclass at Choo Choo's won't let you down. This is a way to keep the staff happy with drinks, yet at the same time they may learn a thing or too. The class is interactive, so you'll each have a turn at whipping up a cocktail. The staff at Choo Choo's will definitely give you a good laugh with their hipster humour.

8. Embrace your inner Foodie on a food adventure by foot
Everyone has an inner foodie in them these days and we bet a good handful of your employees take photos of their meals to post on Instagram or Facebook too! So why not get your walking shoes on and explore Perth City or Fremantle on a Food Loose Tour. These unique foodie adventures will encourage socialising over great food and drink. While keeping those Fitbit wearing workers happy with the 100's of steps you'll get between each venue.

9. Solve a Murder Mystery together in Freo
Escape Hunt in Fremantle offers 'escape the room games' to challenge corporate groups and build the bond within your team. It's like Cluedo in real life. You have to find the clues to solve the puzzle. You'll be challenged as well as a group. It's a great 'out-of-the-box' activity that would be followed quite by a lovely cold pint at The Monk Brewery across the road.

10. Feel Good with Charity Bike Build
This activity is all about working together to create something fabulous for those in need. Employees will work together in teams to build children's bikes. Once tested by a qualified mechanic the bikes will be donated to a kids local charity . What a perfect idea for your office Christmas party as everyone will go away feeling completely chuffed that a lucky little kid will receive a new bike this Christmas.
11. Join the Amazing Race
Run a fast-paced 'amazing race' through the streets of Perth. Your workforce will be placed into teams and must work together through a series of obstacles and roadblocks with the ultimate goal of reaching the finish time the quickest.
Using the latest in QR code technology, each team will be following a predetermined path in which they are required to perform challenges and activities along the way, rewarding them with time credits. These credits will be deducted from their final time to determine the winning team.
The race involves a good mix of leadership, problem solving and communication, great for team building.
You can find out more about the Perth amazing race at Total Team Building.
12. Visit the Little Creatures Brewery
Little Creatures' Perth brewery is located right on the edge of the Fishing Boat Harbour in Fremantle. Grab a delicious pale ale and start exploring the large brewery while enjoying the great view over the water. Head over to Creatures NextDoor and learn how Little Creatures brew their beer by attending their beer school. If you have a larger team, consider hiring The Red Room, a fun carnival-like space perfect for medium to large groups.
You can find more details about Little Creatures Fremantle Brewery here.
13. Work Par-Tee at Holey Moley
One of the newest and most enjoyable attractions in Perth, Holey Moley is a putt-putt golf course and bar located in Northbridge. Featuring a total of 27 fun and quirky holes, Holey Moley has a range of corporate work par-tee packages available, sure to be a hit with the staff.
Each package involves 9 putt-putt holes, a drinks package and delicious food selections. They can even tailor the menu to suit any food requirements your team may have.
To book a work par-tee, head over to the Holey Moley website.
14. Get Climbing
Monsterball's range of climbing equipment makes for some great Christmas party fun. The inflatable rock climbing wall, for example, is perfect for team building and bonding. Have staff support each other as they make the journey up the wall, building trust between the team. You can even have employees race against each other side-by-side up the 9-metre-high wall.
Check out Monsterball's climbing activity equipment for more information.
15. Have A D'Vine Wine Tour
The team at D'Vine wine tours have over 5 Christmas themed tours available. Visiting some of the best local wineries, breweries and restaurants the Swan Valley has to offer. With prices to suit most budgets, the tours are ideal for groups of 15 people or more but can be catered to groups of all sizes.

With pickup available from a location of your choice, you'll spend the day enjoying some of Western Australia's award-winning food and drink throughout the day.
Book your work wine tour at D'Vine tours.