Subscribe to our newsletter to be kept up to date with our latest products, specials and offers.
Amusement Hire, what should I be asking my Amusement Company before hiring an inflatable ride?
When you are thinking of organising an event there are always questions to ask before it all comes together. This should be no different when you are thinking off adding in some entertainment for the crowd. You may think it is as simple as delivering a bouncy castle to the site location, but so much more is happening behind the scenes. Here are 5 very important questions to ask your entertainment provider before signing any agreement. This is to make both yours and their life much easier and so the kids (and adults) can start jumping around ASAP.
Check out some cool inflatable bouncy castles from Monsterball Amusements
1.How long will it take you to set up the amusement for it to be ready by my event start time?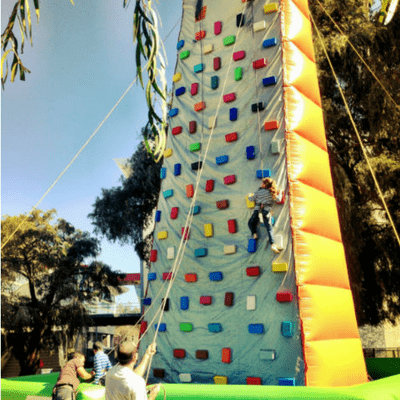 If your event starts at 10am for example you should be asking the providers what time they will arrive onsite to ensure everything is ready before the crowd comes in. If you need the equipment to be set up at a certain time then it would be great to mention that to them beforehand, so the timings can work for everyone.
Remember it is a high chance that you are not the only customer with a booking over that day. Setting up a bouncy castle is also not a small job, they are really heavy and if you have more than one item then the set up with take much longer.
2.Do you provide your own power and water?
Most amusement companies such as monsterball do not provide water and rely on a tap to be available for them onsite when they arrive. It is up to you as the customer and event organiser to ensure there is one onsite if you have hired out a water slide.
If this is not possible, most companies will recommend hiring a water tank and you can speak to them about individual slide needs in terms of how many litres the tank should be. Water slides are so much fun and absolutely worth the trouble (we promise).
If there are more than one slide on site and only one tap, it is possible to use a tap to get water flowing to both bounces, but it may reduce the water pressure. This is not the end of the world, it's just something to keep in mind if the water flows slowly for a little while.
Power is perhaps the most important thing of the day. All inflatables require a constant source of power running to keep them inflated for the event. If you are running more than one unit from the same circuit then there is a chance it will trip which is dangerous for the kids inside. If the power trips the bouncy castle could deflate even if the power is turned off for a minute.
Please make sure you confirm the number of power points required from different circuits before booking. If you are unable to organise power then talk to your provider about hiring a generator. This is a great option for events that are on large ovals with limited access to electrical sources. It also means less power cords will be lying around if the power source is far away.
3.Do you need vehicle access?
This is a question you have to ask the providers especially if they are bringing something huge! While all the inflatables are impressive when blown up, keep in mind they do weigh 200+ kilos and it is much easier and recommended by worksafe that the units are dropped directly onto the set up area from the vehicle itself. Just imagine having to push a 200-400 kilo unit across an oval! It's an absolute nightmare. Don't underestimate the size of a jumping castle!
4.Do I need to pay for operators?
Operators are recommended but not required for all inflatable units. Operators usually come at an additional cost, so if you are thinking of providing your own volunteers please remember they need to be attending to the unit for the duration of your event. We try to enforce this for safety reasons only.
5.How far in advance do I need to book?
This is a case by case question, sometimes if you are interested in hiring a very popular unit it is worth securing it as soon as possible.
The amusement company may not be able to hold the equipment for too long either, especially if more than one person is asking for the same thing.
If you have your time, date and budget confirmed then we do suggest you book in your favourite item ASAP.
Why should I book an inflatable?
Bouncy castles are so much fun and a unique amusement to add to your party plans. There are units for all age ranges and different sizes to fit in your backyard or local park. Jumping around to your heart's content is something all children seem to enjoy.
It's also a good way to keep a large number of kids entertained in one manageable area. Birthday parties will never be the same again.
We hope this will give you a better understanding of what goes on behind the scenes of a bouncy castle business.
For the most part though it is a whole lot of fun!