Subscribe to our newsletter to be kept up to date with our latest products, specials and offers.
After a long and busy year, many businesses are beginning to wind down for the Christmas holidays. But, it's important not to forget the most important part of the holidays – the Christmas office party.
If you're the one in charge of organising the event, the stress at an already stressful time of the year may overly complicate things. Luckily, your sanity will be kept intact with the comprehensive list below containing some of the most unique and fun approved Christmas party ideas in Perth, sure to be a hit amongst the staff.
Join the Amazing Race
Run a fast-paced 'amazing race' through the streets of Perth. Your workforce will be placed into teams and must work together through a series of obstacles and roadblocks with the ultimate goal of reaching the finish time the quickest.
Using the latest in QR code technology, each team will be following a predetermined path in which they are required to perform challenges and activities along the way, rewarding them with time credits. These credits will be deducted from their final time to determine the winning team.
The race involves a good mix of leadership, problem solving and communication, great for team building.
You can find out more about the Perth amazing race at Total Team Building.
Race the Team Through an Inflatable Obstacle Course
Monsterball has a wide range of wet and dry inflatable obstacle courses which can be set up on location, close to your business premises. Select one of the 8+ inflatable obstacle courses, or create your own obstacle course by combining multiple together.
Split into two teams and have each team race against each other on the Aqua Rush, a wild side by side obstacle course. Add water to the course to make it slippery, perfect for Perth's sizzling summer days over the Christmas period. Or go all out with the Monster Ultimate Challenge, a one of a kind 65-metre obstacle course finishing with a slide into a pool of water.
Monsterball's inflatable obstacle courses are great for team building while having a fun day out with colleagues, enjoying the sun.
Check out Monsterball's wide range of inflatable obstacle courses here.
Visit the Little Creatures Brewery
Little Creatures' Perth brewery is located right on the edge of the Fishing Boat Harbour in Fremantle. Grab a delicious pale ale and start exploring the large brewery while enjoying the great view over the water. Head over to Creatures NextDoor and learn how Little Creatures brew their beer by attending their beer school. If you have a larger team, consider hiring The Red Room, a fun carnival-like space perfect for medium to large groups.
You can find more details about Little Creatures Fremantle Brewery here.
Work Par-Tee at Holey Moley
One of the newest and most enjoyable attractions in Perth, Holey Moley is a putt-putt golf course and bar located in Northbridge. Featuring a total of 27 fun and quirky holes, Holey Moley has a range of corporate work par-tee packages available, sure to be a hit with the staff.
Each package involves 9 putt-putt holes, a drinks package and delicious food selections. They can even tailor the menu to suit any food requirements your team may have.
To book a work par-tee, head over to the Holey Moley website.
Get Climbing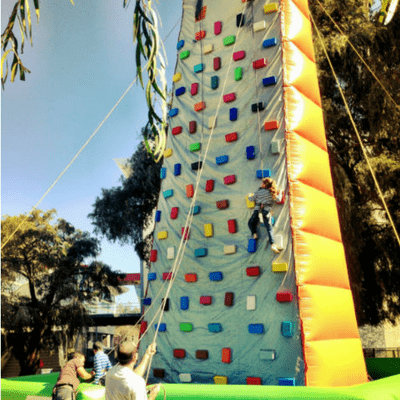 Monsterball's range of climbing equipment makes for some great Christmas party fun. The inflatable rock climbing wall, for example, is perfect for team building and bonding. Have staff support each other as they make the journey up the wall, building trust between the team. You can even have employees race against each other side-by-side up the 9-metre-high wall.
Check out Monsterball's climbing activity equipment.
Have A D'Vine Wine Tour
The team at D'Vine wine tours have over 5 Christmas themed tours available, visiting some of the best local wineries, breweries and restaurants the Swan Valley has to offer. With prices to suit most budgets, the tours are ideal for groups of 15 people or more, however, can be catered to groups of all sizes.
With pickup available from a location of your choice, you'll spend the day enjoying some of Western Australia's highest award-winning food and beverages throughout the day.
Book your work wine tour at D'Vine tours.
Dunk Your Boss
This one might take a bit of convincing.
Dunk tanks require minimal space and are a fantastic way to have a fun wet and wild group Christmas party. With their permission, have your boss sit in the dunk tank and let the employees take it in turns attempting to hit the target (which might become more of a struggle after a few drinks). After the boss has taken the plunge, it's the employee's turn. Fill the tank with icy water for an extra cold surprise on a hot summers day.
Have a Christmas party to remember with a Monsterball dunk tank.
If you're looking for office Christmas party ideas that are out of the ordinary and tons of fun, speak to the experienced team at Monsterball on 08 9335 5109.