Subscribe to our newsletter to be kept up to date with our latest products, specials and offers.
Your Guide to Bouncy Castle Hire at Monsterball Amusements
Looking for hours of entertainment and a great way to tire out the kids? Why not consider hiring a bouncy castle for your next children's party or family gathering. Bouncy castle hire is a great way to get the kids outside and disconnected from technology, such as computers, smart phones and televisions.
If you're thinking about bouncy castle hire for your next event, we've put together answers to some of the most common questions (according to Google search).
If you don't find the answer you're looking for please contact us. We're Western Australia's bouncy castle and inflatable entertainment equipment specialists, so we'll have the answer to your specific questions and can also provide a quote for your event.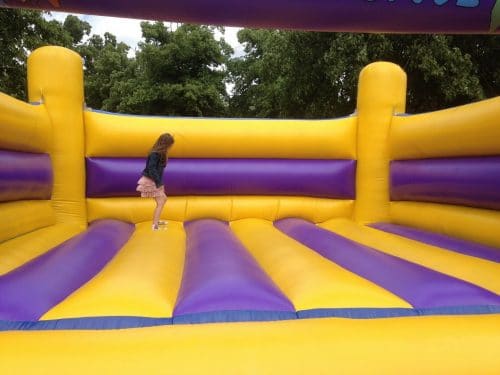 Here are the answers to your top questions about bouncy castle hire.
What are Bouncy Castles?
Bouncy castles are inflatable structures, filled with air, that can be jumped and bounced upon without injury. They can have various themes, but traditionally resemble houses or castles. In Australia, traditional bouncy castles have inflated walls on three sides with an open front and crash mats to cushion the entry/exit. Some also have netting to prevent children falling out.
More recent designs have seen inflatable obstacle courses and slides added to bouncy castle hire choices.
They are most often made from strong PVC or vinyl, are waterproof and are have both therapeutic and entertainment value for children. They are suitable for events from a backyard party to community fairs and corporate events.
How Big are Bouncy Castles?
Bouncy castles are available in many shapes and sizes. There are models suited to toddlers and larger models designed for teens and adults. The theme and type of bouncy castle, such as obstacle courses, mean the size can vary.
One of the smallest bouncy castles for hire from Monsterball is Tweety Bird. It stands at 6.5-metres tall with dimensions 5.5m L x 5m W x 7m H. It can take up to four children at a time.
One of the largest inflatables is the Monster Ultimate Challenge which is a 60-metre bouncy castle incorporating obstacles, climbing wall and water slides. Its dimensions are 60m L x 10m W x 7m H and can take 15 people at a time. You'll need more than the average sized backyard to hire this one.
The best way to find the size of your preferred bouncy castle is to browse our equipment. When you've found the product you like, click on the details and you'll find all the specifications from dimensions, capacity, power requirements and ages suited. You'll also find the hire price and any other special instructions related to equipment use.
How Much are Bouncy Castles to Hire?
Bouncy Castle prices vary depending on the size of the bouncy castle, features included, how long you want to hire it for and whether it is part of a package or a single hire item. We also offer specials and discounts throughout the year.
For an indication of the hire price for each bouncy castle see the product details. All hire prices are listed on this site.
As a general price indication, small bouncy castles can be hired for $220 + GST for a full day, while larger inflatable obstacle courses such as the Ninja Challenge are approximately $1100 + GST for the day.
We will provide a quote for package hire and you can find specials here.
Always choose a reputable bouncy castle hire company to get the best value for your hire money. Specialist companies such as Monsterball provide free delivery, set-up and pack-up in the Perth metropolitan area and can also provide a qualified operator for $40 per hour.
Do I Need Insurance to Hire a Bouncy Castle?
No. Provided you deal with a reputable hire company you will be covered under that company's public liability insurance in the unfortunate event of a mishap with the bouncy castle. While you generally won't have to arrange any insurance yourself, it's always a good idea to confirm that your hire company is insured and what their policy covers.
Monsterball is Worksafe registered and compliant and carries public liability insurance of $20million.
Can Adults Use a Bouncy Castle?
Yes! Don't let the kids have all the fun. Large bouncy castles are available for adults and suited to events such as Oktoberfest (pub theme bouncer).
Bouncy castles, obstacle courses and adult rides are also available for a range of functions from corporate team building to bucks and hens parties.
Most of the Monsterball bouncy castles for hire listed on our site are suited to ages from 3 to adults.
What Packages are Available? Can I Create my own Package?
Get great value when you choose from some of the most popular inflatable amusement hire combinations specifically packaged to suit a range of events. If you're organizing a school event, sports club wind up or fundraiser you're sure to find a favourite.
You can also create your own equipment combinations and package them to suit your event and budget. Monsterball has more than 80 amusements to choose from.
I Live in Regional WA, Can I Hire a Bouncy Castle?
Bouncy castle hire perth is available throughout regional Western Australia.
Monsterball has been delivering amusement hire packages to regional WA for more than seven years, including as far afield as Kalgoorlie, Albany, Broome, Esperance and Port Headland.
Organising a regional event often has unique challenges, so we've put together a guide on factors to take into consideration.
If you need more information about bouncy castle hire in regional areas, please give us a call or send us an email.
How Do I Book a Bouncy Castle?
We make it easy with all prices, hire agreements and contact forms available on this website. Send us your event details and as much information as possible and we will get back to you with the best options, considering factors such as your budget, dates, site access and preferred equipment.
Want to know how we can help with your party fun? Contact us today.